Course details
【New sense ♪】 "Wagyu beef roast beef & cheese fondue all you can eat course" 【2980 yen → 1980 yen】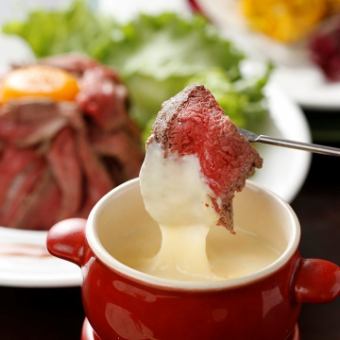 By using a coupon1980 yen
Tax excluding "Women's Association No. 1 popularity"
Available days for reservation

Monday - Sunday - Public holidays - Holidays
It takes time to slowly bake in the oven and it is baked homemade roast bee! Even after baked carefully using carefully selected wagyu with salt and pepper, let it be laid firmly and condense umami until the meat juice settles down We thinly sliced ​​meat spreads the meat umami in mouth every time chew ♪ By all means, please enjoy our marriage with our proud wine ♪
Course menu
【1】 lavish assortment of fresh olives and selected pickles
【2】 Contract farmer direct fresh Caesar salad
【3】 Heat thick cutting Bacon & whole whole Hokkaido potato original plate
【4】 Capriccio Seafood plentiful Mediterranean style carpaccio
【5】 Buffalo wing with bone ~ Excellent article finished with special spicy sauce ~
【6】 Homemade Wagyu Beef Roast Beef & Rich Original Cheese Fondue "All you can eat"
Homemade soft roast beef
Tonto ~ Fondue to a crispy crisp ... ♪
【7】 Italian origin Chef's home made Italian pasta
【8】 Dolce boasting by exclusive patissier
ー ー ー ー ー ー ー ー ー ー ー ー ー ー ー ー ー ー ー ー ー ー ー ー ー ー ー ー ー ー ー ー ー ー ー ー ー ー ー ー
※ All you can eat is a course of 120 minutes.※ 2 drinks ordered.You can put all you can drink at +1000 yen.* Customers and birthdays customers can change to dessert plates.※ The last order will be 30 minutes ago.※The image is an image.※ Seating fee + 300 yen will be charged.
※ December is not available.
※ We will rent out projector and microphone for free!
ー ー ー ー ー ー ー ー ー ー ー ー ー ー ー ー ー ー ー ー ー ー ー ー ー ー ー ー ー ー ー ー ー ー ー ー ー ー ー ー
2018/11/13 update