Course details
【All-you-can-eat all-you-can] 3 hours drink all you can eat "All-you-can-eat raclette cheese course" 【9 items in total / 4980 yen → 3980 yen】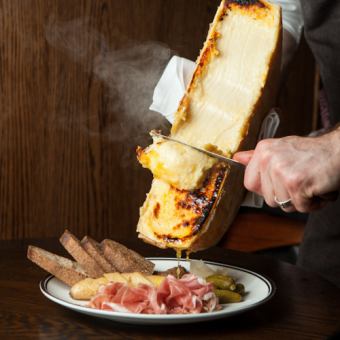 By using a coupon3980 yen
Tax excluded "All you can eat and drink for three hours" "If you have a lunch party party, you can save 300 yen for seats!
All-you-can-drink available

All-you-can-drink menu
Available days for reservation

Monday - Sunday - Public holidays - Holidays
All-you-can-eat racklette cheese on the topic in the media ◎ All-you-can-drink on three hours ♪ Special deals for parties, girls' sociations!
Course menu
【1】 lavish assortment of fresh olives and selected pickles
【2】 Contract farmer direct fresh Caesar salad
【3】 Capriccio Seafood plentiful Mediterranean style carpaccio
【4】 Buffalo wing with bone ~ Excellent article finished with special spicy sauce ~
【5 ~ 7】 The topic on SNS! Switzerland rich rice cake Rice cheese "All you can eat"
· Large-format grilled chicken using Kagoshima production area chicken "All you can eat"
· Heavy thick bacon & whole plate of Hokkaido potato original plate "All you can eat"
· Homemade baguette and colored broccoli grilled vegetable "All you can eat"
【8】 Authentic Italian pasta made by Italian chefs
【9】 Dolce boasting by exclusive patissier
ー ー ー ー ー ー ー ー ー ー ー ー ー ー ー ー ー ー ー ー ー ー ー ー ー ー ー ー ー ー ー ー ー ー ー ー ー ー ー ー
* Customers and birthdays customers can change to dessert plates.※ All you can drink and all you can eat is a 180 minute course.Last order will be 30 minutes before.※ The image is an image.※ Seating fee + 300 yen will be charged.Please note.※ Friday, Saturday and holidays the day before the two-hour
※ We will rent out projectors and microphones for free!
ー ー ー ー ー ー ー ー ー ー ー ー ー ー ー ー ー ー ー ー ー ー ー ー ー ー ー ー ー ー ー ー ー ー ー ー ー ー ー ー
All-you-can-drink menu
·Highball
· Angle high ball / angular cola high ball / angular ginger high ball / beam high ball / beam cola high ball / beam ginger high ball
·beer
· Suntory middle jug
·sour
· Lemon Sour / Ume Sour / Grapefruit Sour / Oolong Hi / Green Tea High / Jasmine High
Shochu
- Potato / wheat
·Cocktail
· Campari (soda · orange · lassie) / cassis (soda · orange · lassie · oolong) / lychee (soda · lassie) / peach (soda · lassie) / screwdriver / gin tonic
·wine
· Karurorosshi
·Fruit wine
·plum wine
·Soft drink
· Cola / Ginger Ale / Orange Juice / Tonic Water / Lassie / Oolong Tea / Jasmine Tea / Ice Coffee
2018/09/16 update